Landscape and Garden Design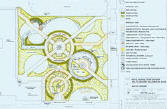 Your outdoor areas should be just as much a reflection of what's best about you as your indoor areas.
Jim VanBuskirk is an expert designer with 16 years of landscape design experience in a variety of residential and commercial settings. He holds a degree in Plant Science from Cornell University and has hands-on experience as a third generation stonemason. He will work with you to design outdoor space to your wishes in a way that will provide a lasting complement to your home or business.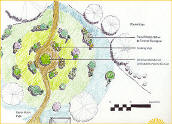 Whether you need assistance in selecting a plant to grow in a difficult spot in your yard, or you desire to give your home landscape a new look, our design services can assist you to develop year round garden beauty with a minimum of maintenance. Our landscape designs take into consideration the light, soil, and water requirements of the plants, their texture, color and ultimate size, and the style appropriate to the architecture and design of your home or business.
The complete landscaping and garden design service includes:
One trip to your home to measure the area and make a site inspection.
A discussion with the landscape designer about your ideas and the goals of your project.
A landscaping plan drawn to scale indicating the type of plants and their locations in the garden.
Level Green making your plan a reality with expert landscape installation.